With well over 9,900 rooms this is certainly the largest and most well preserved palace complex in the world. The palace was the administrative centre of China for more than 500 years and the emperors of Ming and Qing dynasties resided there. Surrounded by a 6 metre deep moat and a wall reaching 10 metres high, it is located in the centre of Beijing, North of Tiananmen square.
The wall has a gate in each side : to the South there is the Meridian Gate which is so named from the Chinese emperors' belief that they lived at the centre of the universe. To the North is the gate of the Divine Military Genius which is the largest of the four. Standing at 35.6 metres high it connected the imperial palace to the market area.
The distance between the two gates is 960 metres. The other two gates – the West Flowery Gate and the East Flowery Gate stand at their respective points at a distance of 750 metres apart.
The palace is divided into two sections – the Outer court in the Southern section was the place where the emperor wielded his power over the nation and the Inner court in the Northern section was where the emperor and his family lived. In 1924 when the last emperor was driven out of the palace, 24 emperors from the Ming and Qing dynasties combined had lived there.
The dominant colour in the Forbidden City is yellow, being the colour of the Royal Family. Yellow tiles are used on the roofs, decorations are painted yellow and even the bricks paving the ground are made yellow. The one exception is the black roof of the Royal Library as black was believed to represent water which could of course extinguish fire.
Begun in 1407 the palace complex took 14 years to build using more than a million labourers and artisans. At the centre of the Outer palace stand 3 halls – the Hall of Supreme Harmony, the Hall of Complete Harmony and the Hall of Preserving Harmony. In the Inner Palace you will find the Palace of Heavenly Purity, the Hall of Earthly Peace, the Hall of Prosperity and the Imperial Garden.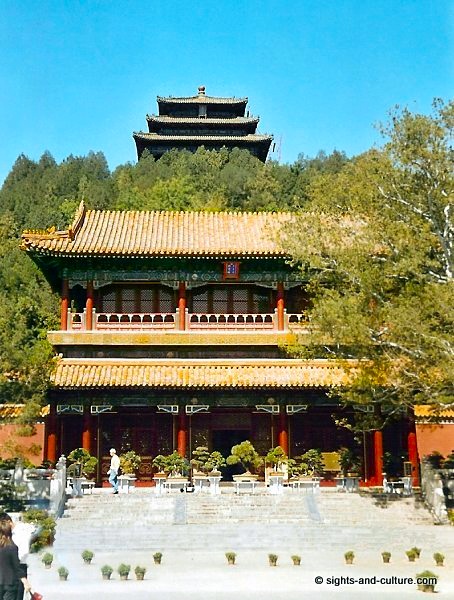 Standing at 35 metres high, the Hall of Supreme Harmony is the largest and best preserved wooden hall in China. The roof is supported by 24 pillars with the 6 central ones adorned with gilding and red paint. In the middle of the hall stands the Emperor Throne, surrounded by treasures of art and symbolic significance.
As the largest museum in China the Imperial Palace holds more than 900,000 priceless antiques and treasures which cover all the Chinese dynasties and is definitely a place that should not be missed. At the entrance you can obtain self-guided audio tour tapes in several languages to bring this marvellous heritage to life.