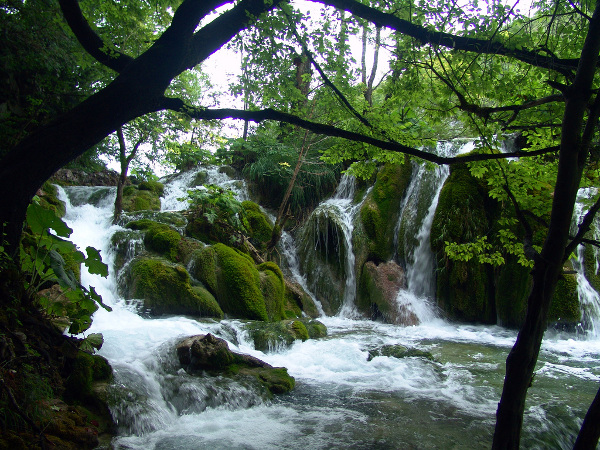 Discover why million people every year visit this pearl of world's natural heritage that is on the UNESCO World Heritage List since 1979. Experience a unique blend of continental and maritime Croatia on remarkable cascade lakes. Timeless beauty of waterfalls thrills in every season in a different way. The perfect picture nature has been creating for several millenniums, leaving everyone breathless.
Though it's a trek from either Zagreb or Zadar, Some 300 sq. km of forested hills, dappled with 16 lakes and hundreds of waterfalls, Croatia's oldest and largest national park is one of the country's most spectacular sights. Experience the birth of a vivid rainbow while getting refreshed with the scattered drops of 78 meters high waterfall.
Take a walk on one of 18 kilometres marked trails in unspoiled countryside or relax while driving on electric boat or small train. Only 2 hours from Zagreb, do not miss the opportunity for unique experience that attract visitors from all over the globe.
On the way to Plitvice there is a small Millers village Rastoke usually called "Little Plitvice". Rastoke is situated at the Slunjcica River estuary which over travertine barriers "dissolves" into the river Korana creating a series of small lakes and picturesque waterfalls. Experience this natural monument compared with famous Fontana di Trevi in 1860 by well known philologist and travel writer Adolf Veber Tkalcevic. Discover the rare symbiosis of fantastic natural creations and centuries old human technical achievements such as old mills from the 17th century.
Free shuttles drive around the lakes (3 per hr.), and a boat crosses Jezero Kozjak, the largest lake (2-3 per hr., 9:30am-6:30pm). At the main entrance, local women sell delicious strudels, bread-cakes stuffed with cheese, spinach, nuts, apples, peaches, or cherries (15kn). If you want to enjoy the peace of the lakes by yourself, go in the early morning or the late afternoon and avoid the shortest trails. Most tourists circulate around the four lower lakes (Donja Jezera) to get a shot of Plitvice's famous 78m waterfall, Veliki Slap.
Buses run to: Rijeka (3hr., 1 per day, 120kn); Split (3hr., 7 per day, 150kn); Zadar (2hr., 6 per day, 72kn); Zagreb (2hr., 9 per day, 70kn). Most bus drivers let passengers off at the park's main entrance. Tourist offices offer maps and exchange currency for a 1.5% commission at each of the three entrances. (☎023 751 026; www.np-plitvicka-jezera.hr. Open daily 7am-10pm. Park open daily July-Aug. 7am-8pm; May-June 7am-7pm; Apr.-Oct. 110kn, students 55kn; Nov.-Mar. 70kn/40kn. Tour guide 700kn, min. 4hr. for groups only. MC/V.) To get to the main info center from the bus stop, walk toward the pedestrian overpass; crossing the road can be dangerous.


Caution!
The takeover of Plitvice Lakes National Park by the Serbs in 1991 marked the beginning of Croatia's bloody war for independence. Throughout the 1991-95 conflict, the Serbs holding the area planted landmines in the ground. Both the park's premises and surrounding area have been officially cleared of mines, and the last mine-related accident dates back to 2002. However, do not stray from the trail for any reason.