Zlatibor is an incredibly beautiful mountain. It is located in western Serbia, about 230 km away from Belgrade. At the average height of 1000 m above sea level, Zlatibor offers unforgettable scenery and a unique climate for those seeking rest, relaxation, as well as enjoying winter and summer sports, such as skiing, walking and swimming. Zlatibor is ideal especially for those passionate skiers, looking for a more exciting and dangerous vacation. High mountain ranges surrounding Zlatibor, spacious pastures, small but numerous rivers and lakes and a climate known to be helpful in curing heart and thyroid gland problems as well as many allergies, all contribute to make staying at this mountain an unforgettable experience. The climate makes Zlatibor rich with vegetation, growing over 120 different types of grasses and forests. Wavy landscape is sprinkled with pine and fir forests, wild daffodils and all sorts of colorful mountain flowers and wild berries.
Zlatibor offers a rich cultural and a tourist experience. More than 200, 000 people visit Zlatibor, all over a year, while staying at newly built hotels, mini hotels, inns or in private houses. It is definitely a mountain one always comes back to.
The first inhabitants of Zlatibor region were the Illyrians, namely their tribe Partyiny. The remnants of their culture -ornamental ceramics are being met in the caves and steep hights, where they used to live. Today these places are called "gradine" and there are three on Zlatibor (čajetinska, krivorečka, šljivovička). In the museum collection of the library in Čajetina we can see some fragments of pottery with the characteristic decorative design engraved into the clay by a finger nail. The culture and life of the Illyrians have been studied exclusively from the "tumulus" (the tombs), which are found on Zlatibor in a great number on various locations (Krivorečka gradina (the place Viševina), Kremna, a wider area from Ljubiš to Mušvet, Braneško polje).
At the beginning of our epoch the Romans dominate in this region with their culture much higher than the previous one.They build new fortreses, a net of new roads (Mačkat - Čajetinska gradina -the river Uvac). The Roman tombstones date the second and the third century A.D. Most of them are in Kremna and there are reliefs inspired by the motives from the nature and sometimes by God Atis - in the figure of a nice youth.
After the 9th century these places are being settled by the Slovenes, who also build fortreses and rebuild "gradine". There's a very interesting fortress on Gradac in Dobroselica, where we can see the remnants of a bulwark.
There are some remnants of a stone pedestal in the shape of a bench that was probably used for observing. There are also some animal bones found built in the base (probably for religious reasons) and there is a lot of medieval material found on this location (a top of a spear, a knife, a copper ring...).
About the year 118O Stevan Nemanja connects Zlatibor and Užice to the independant Serbian state.
In the 16th century The unpreserved monastery Rujno was the cultural and educational centre of the former district (župa) Rujno. In that monastery one of the first Serbian printing shops worked. Recently the position of the former monastery Uvac (and maybe also of the Church Janja - being sung about in folk songs) has been discovered in Stublo on the river Uvac. According to traditional stories the monastery was that "Church Janja", which was the richest far around. The monastery possesed beautiful and good pastures above the valley on Orlic and Orahovica. Milk from there was transported to monastery by boats. The canals in which the boats were placed can still be identified. Thanks to researching and and work of the National museum in Užice the monastery Uvac has been reestablished and the church with the "konak" (the overnight stay) have been rebuilt and sanctified.
The church in Bela Reka is worth being mentioned among the old churches on Zlatibor. It has unusually small dimensions. It has only one nave and one cupola.
On Zlatibor characteristic churches "brvnare" (log cabins) were built, some of which still exist in Dobroselica and Jablanica. In many Zlatibor villages there are places called "crkvine" on which, according to tradition, wooden churches existed. It is supposed that some of them were being burnt by the Turks during the period of 1st Serbian rebellion like those in Mokra gora and Kučani, while the others, which survived the Turkish reign, became ruins because of their old age.
The churches in Sirogojno, Čajetina, Ljubiš, Mačkat, Negbina and Šljivovica are ofrecent date.
A church is being under construction on Zlatibor. It will be The church of Lord's Transfiguration. It is being built exclusively by the help of donators. The Serbian orthodox church appeals to all goodwill people to help its construction either in money or in building material.
Giro account number:
40811-623-8-24-79
14-48-21040-2
with the designation:"For building the temple"

Legends about Zlatibor
There are three legends about the origin of today's name Zlatibor ( ZLATIBOR: zlato=gold, bor=pine tree):

" ...By the first one Zlatibor is supposed to get its name by white pine trees with yellow conifer (the colour of old gold), which used to cover the rolling slopes of Zlatibor. There has only one such tree remained (in the village of Negbina) and it was given the scientific name Pinus silvestris variegata Zlatiborica, by eng. Omanović, who studied those conifer trees.
In the second it is said that Zlatibor got its name because it was so rich with pine tree forests, that the immigrants from Monte Negro and Hercegovina boasted: "It is really a pine tree made of gold!"
The third legend says that it got its name by the mountain pastures, that get a yellow, a golden colour in autumn.

Which of these legends is the right one make a decision by yourselves! Or, better come to Zlatibor, maybe you'll hear a new version in the song of Zlatibor pine trees!"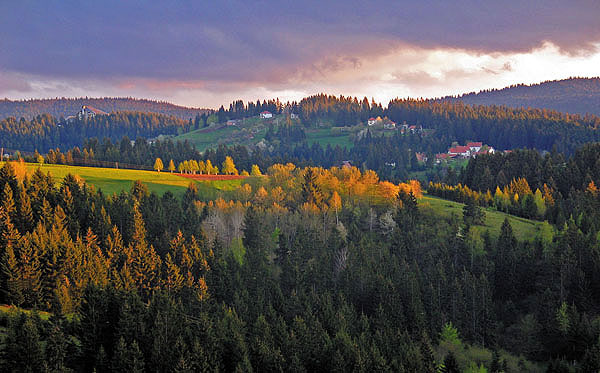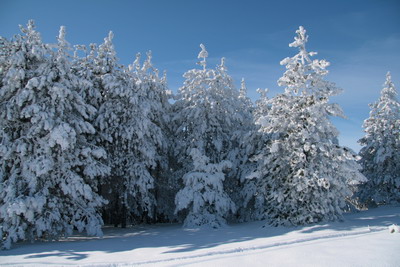 source 1 2