Tunisia's beautiful beaches and historical treasures attract millions of tourists from all over the world.
Nearly 5 million tourists visited Tunisia in 1999.In 2004 they reached more than 6 million.
American and most European tourists do not require visas to enter Tunisia. There are more than 722 hotels in the country, totaling 191.955 beds. Seven international airports, and eight passenger ports connect Tunisia to the United States and Europe. The capital city, Tunis, is a two-hour flight from Paris and London and a fifty- minute flight from Rome. Daily flights connect Tunisia to virtually all European, African and Middle Eastern destinations.
MEDITERRANEAN COAST
Visitors sunbathe, dive, sail, and fish along the vast stretches of glistening, white sandy Mediterranean beaches covering a 810- mile coast. Beach resorts include Tabarka, Hammamet, Sousse and Jerba.
El-Kantaoui's 27-hole golf course and Andalusian style marina is a fully-integrated tourism complex.Tunisia's Saharan tourism attractions includes an international golf course situated under Tozeur's lush palm groves as well as many desert festivals.
The perched village of Sidi Bou Said offers a unique scenery of domes, arched doors and balconies in blue and white set against a sparkling sea.
ARCHAEOLOGY
Punic and Roman archaeological sites can be visited in Carthage and other historical areas around the country. They include second century Roman temple in Dougga, the Phoenician port of Utica, Sbeitla's Roman temples and arches, Bulla Regia's Roman villas and El Jem's Coliseum, which is second only to Rome. The Bardo Museum, near Tunis, boasts the largest collection of Roman mosaics in the world.
ARCHITECTURE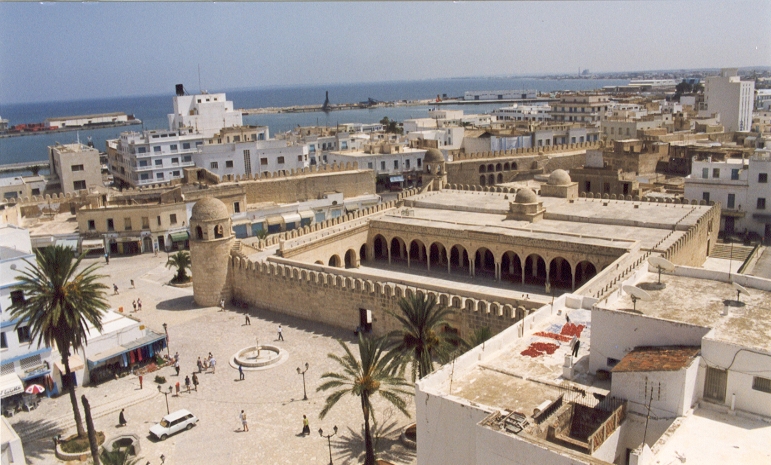 Masterpieces of Arab-Islamic architecture attract the attention of visitors. Among them: the Great Mosque of Kairouan, the Moslem World's fourth holiest city, and the Great Mosque of Ezzitouna, at the center of the old city (the Medina) of Tunis.
CULTURE
Tunisia, a melting-pot of different civilizations, has always had a rich cultural activity, as testified by its prestigious museums and cultural institutions and by the various international festivals held throughout the year. Sustained efforts have been deployed to promote the cultural sector. The Heritage Code grants companies important tax breaks to encourage investments in restoration and protection of archaeological monuments (e.g. Cathedral of Carthage;) promulgation of legal texts allows free importation of books and paper destined for cultural purposes and the exemption from customs duties of musical instruments.
A whole strategy has been put in place to set up institutions serving as points of reference in the various domains of cultural activity. Among them, the National Dance Center of Borj El Baccouche, the House of Baron d'Erlanger converted into a Center for Arab and Mediterranean Music, and the Husseinite Museum (covering the period of the Beys) in the Palace of Ksar Said.
Other projects are in the process of completion, such as the Museum of Modern Art, located at the Palace of El Abdellia, and the National Cultural Center of Tunis. In addition, the International Cultural Center of Hammamet has been refurbished and transformed into the House of the Mediterranean, specializing mainly in theatrical arts. The institution of "Beit el Hikma" was converted into an Academy of Sciences, Arts and Letters in order to better contribute to the cultural and intellectual activity of Tunisia. The academy also welcomes distinguished scholars wishing to conduct research in various fields and serves as a meeting place for debates and exchanges between researchers, scholars and artists.
FESTIVALS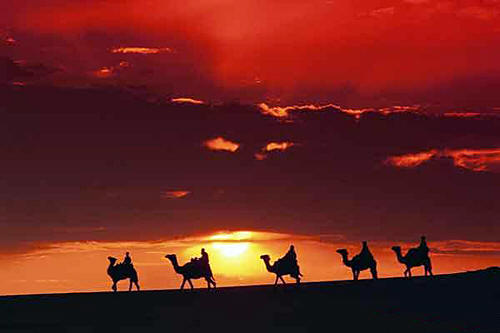 Tunisia hosts numerous international film, arts, and historical festivals, including the Summer festivals of Carthage, Dougga, and Hammamet, which host top international artists, the International Festival of El Jem for classical music, the Andalusian Music Festival of Testour, the Sahara Festival in Douz, the International Film Festival of Carthage, the Mythological Films Festival in Jerba and the Theater Festival of Carthage.