If you are looking for attractions and places to visit in Puerto Rico, then read on and I will present you some of the most interesting places to see on the island.
The island of Puerto Rico was blessed with many natural attractions and great spots for sightseeing. We invite you to go beyond the shore and explore it all. When you visit Puerto Rico you will find that in order for you to see all the attractions there are it will literally take you months to explore and visit them all. Whatever you are looking for in a vacation Puerto Rico has it; romance, adventure, relaxation, history, beauty, magical places and friendly locals that will make you feel right at home.
Puerto Rico is the favorite destination on the Caribbean simply because it is the most diverse island with a range of attractions and sightseeing spots in every corner of the island. Many places to visit on the coast, and the central hillside of the island. No other Caribbean island has such a variety of attractions and places to visit like Puerto Rico.
You won't run out of things to do while you visit the island of Puerto Rico; the star of the Caribbean. There are attractions and places to visit for every type of traveler. From adventurous places, to the most alluring and relaxing spots that are free of crowds. Puerto Rico is very family friendly, attractions where time seems to stand still so you can build memories to last a lifetime.

Let's go to some of the my favorite places to visit and attractions in Puerto Rico. Puerto Rico may seem small on a map, and it is when compared to many other destinations. But you will find that you will be wishing you had more time to explore the island of Puerto Rico. There are too many places to see, too many attractions and beautiful beaches to explore in a week or two. So get ready to have fun, and be ready to start blocking some time in your calendar for your next vacation to Puerto Rico. I guarantee you that once you visit this beautiful land of Puerto Rico, you will want to come again and again, and like many you may even find yourself looking for real estate so you can have a place to come and stay with friends, family and possibly retire.
If you really want to get to know Puerto Rico, transportation is a must. Get a rental car because the best of Puerto Rico is off the beaten path. Let's explore the island in more detail.
Drive off to Porta del Sol (west Puerto Rico) and you will find pristine, un-crowded beaches with breathtaking sunsets. If you enjoy surfing visit the town of Rincòn, where you will experience the best surfing on the island.
Don't leave Puerto Rico without going to the town ofCabo Rojo where you will find some of the best seafood restaurants in Puerto Rico at very affordable prices. In Cabo Rojo, you will also find some of the most scenic un-crowded beaches and the beautiful lighthouse where you can enjoy stunning vistas, and the best sunsets in Puerto Rico. Visit La Parguera in the town of Lajas where you can experience the natural wonder of bioluminescence.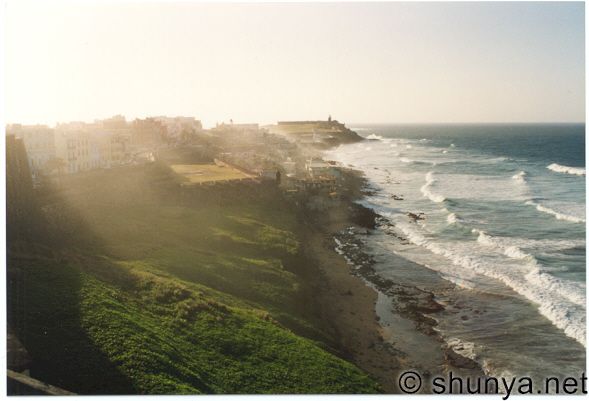 Explore the Dry Forest of Guanica, where you will find the greatest population of birds on the island and more great beaches.

Visit the historic town of San German, where you will drive through narrow brick roads lined with old-world style Spanish homes. San German also houses the first church that was ever built in the New World. Take the scenic drive, and you will be mesmerized by the majestic mountains running through the center of the island and the breathtaking turquoise waters framed by lush, tall, green palm trees.

Another great destination in Puerto Rico is the island of Vieques, the new capital of weddings and honeymoons of Puerto Rico, where you will find pristine, virgin, and secluded beaches. Vieques will be the cherry on your perfect Puerto Rico vacation.

Before you leave Puerto Rico please take at least a couple of days to visit this beautiful island, it is like going back 60 years and seeing the Caribbean the way it was intended to be.
There is so much to see in Puerto Rico, you could spend years of your life exploring the beauty and diversity of the island.


Puerto Rican natives are very friendly and they will make you feel welcomed. Puerto Rico has the charm of an island and the conveniences and roads that you would find in the United States. It is very easy to get around the island. If you get lost, the helpful residents will be happy to lead you in the right direction. Helpful hint: Be ready to use landmarks as directions instead of road names.

Ready to get on the road and begin exploring? Start smiling you are on your way to Puerto Rico.